Westerners visiting Shenzhen inevitably get told to visit a few "suitable" places in the city. After "Windows on the World" and Shekou, OCT or "Overseas Chinese Town" is high on the list. OCT is more or less surrounded or enclosed by three enormous theme parks: "Windows on the World," housing recreations of famous landmarks from around the globe (Eiffel Tower, Acropolis, etc.), "Splendid China – Folk Culture Villages" (which is supposed to serve a similar function, but only for China, and places special emphasis on China's fifty-five ethnic minorities), and "Happy Valley" (to which I have not yet been, but seems rather more eclectic, boasting "Playa Maya Water Park," "Typhoon Bay," "Cartoon City," "Spanish Square," "Shangri-la Woods," and "Gold Mine Town.")

As its name suggests, OCT is also an enclave for non-citizens of the People's Republic of China. It is expensive real estate. Like Shekou, it has a reputation for being home to expensive western restaurants and bars – an expat enclave. It also has a reputation for having a thriving artistic scene. It is home to the He Xiangning Art Museum and the OCT Design Museum.
Buried in the midst of the gated apartment complexes of OCT is a zone branded as "OCT Loft." The area appears to be chic postindustrial art district (presumably the names derives from the idea of artists' lofts). Think lots of exposed concrete and big steel. There are jazz bars, cafes (including a Starbucks), wine bars, a variety of restaurants, design stores, and bookshops sprinkled amidst dozens of art galleries and art spaces. The whole area, which covers about two blocks by two blocks is bisected by one minor road, but apart from that is a mostly peaceful pedestrian zone (especially in contrast to the surrounding city). The juxtaposition between the postindustrial architecture and the greenery that surrounds it makes it especially photogenic.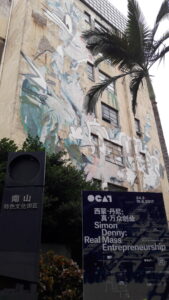 The art scene is rapidly growing in Shenzhen, and OCT Loft is no doubt part of this creative economy. But Shenzhen became famous first for another kind of art – the Dafen Artists' Village. Celebrated in China as a triumph of "working class art" and denigrated in the west as "copycat" art, since the 1980s, Dafen painters worked to rapidly produce reproductions of various kinds of artworks for the global art market.
It is hard not to think of OCT Loft in relation to Dafen. On the outskirts of Shenzhen (and outside the original Special Economic Zone), Dafen stands in direct contrast to OCT Loft in many ways. OCT Loft is supposed to be the kind of space that produces highly original "high art," in contrast to the supposedly "low art" produced in Dafen. Winnie Wong's great book about Dafen (Van Gogh on Demand), however, does much to complicate this simplistic high/low dichotomy. Wong points out that western art has long contained elements of copying, imitation, and appropriation. Moreover, the actual conditions of work in Dafen suggest that its painters are not mindless sweatshop paint-to-order drones, but independent artistic entrepreneurs whose work evolves and develops to meet the changing demands of the international art market.
Where does that leave OCT Loft? It is certainly part of an attempt to legitimate and authenticate Shenzhen's art and artists. Creating a space that it legible as a space of creativity and creatives (perhaps unlike Dafen, although efforts have also been made to "legitimate" Dafen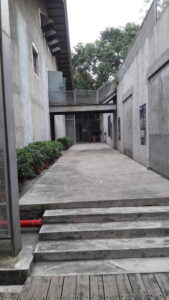 ) does part the work of creating originality and innovation. In other words, it performs high-art making.
But we should also contemplate OCT Loft in relation to the theme parks that surround it. They attempt to bring the rest of China and the rest of the world to Shenzhen. They recreate the world in miniature, as a playground. OCT Loft is a similar kind of recreation or simulation. It appeals to a different audience, certainly, but it is a kind of "post-industrial" theme park. OCT Loft makes me think of Richard Florida's Rise of the Creative Class – to be a flourishing, entrepreneurial, knowledge-economy city you need "creatives" Florida tells us. And "creatives" want their little Bohemias to live and play in. OCT Loft seems built to "creative" order, providing the essential elements of street life and culture.
Here is the irony: creating a more "authentic" form of art in Shenzhen requires the creation of a space that is especially "inauthentic" in relation to its surroundings. Art with the imprimatur of originality and innovation emerges here from a space that is in some sense ultimately a copycat.